Baptisia 'Lunar Eclipse' - A Sneak Peek at Perennials for 2018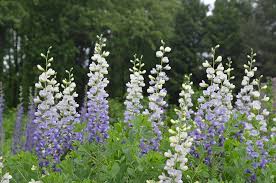 Jennifer (our expert perennial grower) has been working all Month to finalize the final perennial line up for Spring 2018.  Friday she gave me a sneak peek and (since I LOVE perennials) I have been looking through the list for the gems!
-- Just so you know, there are 496 PERENNIAL VARIETIES on the 2018 list already!---
SO, as most of you know, we grow many varieties of Baptisia every year, but this one is unique.  It is a 'Prairieblues' hybrid introduction called "Lunar Eclipse", and has big flowers on long inflorescences, that grow up above the foliage.  The blooms start out light lemon over cream color, then they fade to cream...then they fade to violet...THEN they fade to darker violet!  
If you have not grown Baptisia before, you should try it.  It grows best in full sun, and grows well in the Cincinnati Area.  Once established, it is very easy to grow in your perennial bed, and is not fussy about soil or moisture.  Keep in mind that they are all pretty large.  They all get to about 3-4 feet wide and tall, so they are more like shrubs at first glance. Baptisia is native and blooms in late Spring to early Summer.  And lastly, it is a good nectar source to bees.
Here is a quick list of the other Baptisias that we are growing in 2018:
BAPTISIA AUSTRALIS
BAPTISIA 'BROWNIE POINTS'
BAPTISIA 'CAROLINA MOONLIGHT'
BAPTISIA 'DECADENCE BLUEBERRY SUNDAE'
BAPTISIA 'DECADENCE CHERRIES JUBILEE'
BAPTISIA 'DECADENCE DUTCH CHOCOLATE'
BAPTISIA 'DECADENCE LEMON MERINGUE'
BAPTISIA 'DECADENCE PINK TRUFFLES'
BAPTISIA 'DECADENCE VANILLA CREAM'
BAPTISIA 'PURPLE SMOKE'
Happy Gardening!--Suzanne